Do hedgehogs need bedding? Asking this question to any hedgehog lover will not be suitable. Choosing hedgehog bedding is just like choosing a healthy diet and environment for the hedgehog. It seems like a very trouble-free task but in reality, it's a time-consuming and challenging task.
Sometimes hedgehogs can be capricious and unpredictable animals so their desire and needs must be your first and foremost priority. If you want to see your hedgehog happy and gleeful, their bedding must be extraordinary.
Bedding is usually chosen to make sure that our pet is safe and comfortable. You also wish for fabric that is soft enough for the tiny and delicate feet of your hedgehog. Hedgehogs mostly prefer natural bedding. Biodegradable and natural bedding like leaves, hay, etc can also be easily disposed of.
You will find here a detailed article about the best bedding options available in online stores. Apart from this, we have covered everything which you should need to know about hedgehog bedding.
1: Kaytee Aspen bedding
Aspen bedding for hedgehogs and other small pets has always been people's number 1 choice. We can proudly say that the reason behind its fame is its high rating on Amazon. It has got 4.6 stars out of 5 and 1001 rating which makes it one of the valuable bedding.  Among Kaytee clean and cozy vs. care fresh, this is highly great bedding.
Like other bedding of low quality which contains wood debris and dust, Aspen bedding hedgehog is free from all kinds of preservatives and dangerous chemicals. Aspen shavings that naturally occur have been used in their manufacturing. It is pleasant, pulpy, and flourishing for your pet. But as compared to this product, aspen bedding bulk is made up of wood shavings.  In the hedgehog world, it's the best hedgehog bedding. Aspen bedding is all-natural with no additives or bad toxic chemicals so it is a good choice for your hedgehog.
Artificial aromatic oils and colors for adding glow have not been used in it. For all types of habitats, you can use this bedding as it is the most perfect bedding.
In the case of hedgehog cage bedding, you can depend upon Kaytee aspen bedding with full trust and performance. It is very easy to clean and pollution cannot be added to the environment by using this because it is biodegradable.
Its odor control mechanism is very powerful and it can absorb up to 4x of liquid. Aspen bedding is relatively inexpensive, does not end up being tracked all over creation, absorbs urine well and 1 bag lasts almost a month with three house rabbits.
If we talk about its pros then it is easier than paper bedding to spread and clean up. It lasts forever. It is soft enough that you would not get cut or splinters when digging in the bag with fewer hands.

2: Care fresh 60L Complete Pet Bedding
Care fresh complete pet bedding is the topmost priority of people.  Natural fiber which is extracted from the wood pulp has been used in its manufacturing. This company has been producing the best bedding for many years.
This company declares that they are producing the greatest bedding in many years.  A highly professional and industrialized manufacturing process has been used which makes one of the most demanding and useful bedding for small pets like hedgehogs.
You would not have to worry about its ingredients because it's completely natural and organic. The company also ensures that the bedding is free from any kind of toxic chemicals. These vital features prove very useful in bringing comfort to your hedgehog.
If we talk about its odor control power and absorption strength then we must say that this is the only bedding that can control odor up to 4x of its weight. Being made from paper fiber, it is completely biodegradable and can be easily broken down.
Its ability to expand at any time is one of the amazing features. Any kind of preservatives is not used in this care fresh bedding for hedgehogs. It makes it safe bedding for a hedgehog.
Most of the bedding cannot compete with the reviews of care fresh on Amazon. Care fresh bedding has got 4.5 stars out of 5 on Amazon. With a 58 rating, it is still the best bedding for hedgehogs. Care fresh bedding bulk on some other websites like Pet mountain has got only 48 reviews. Buyers are highly satisfied with care fresh bedding reviews and are willing to buy them for their pets.

3: Small pet select unbleached white paper bedding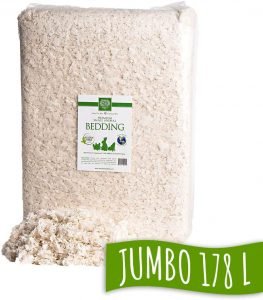 Paper bedding for hedgehogs is also very common and useful bedding.  This white paper bedding is very soft and absorbent.  When it comes to the care and maintenance of the environment of your hedgehog, then this is the perfect option for you.
One of the amazing features is that the chances of catching allergies from the bedding become negligible due to hypoallergenic qualities. Among all the manufacturers, it is 99% dust-free which has always been the highest percentage in many years.
Bedding for hedgehogs also needs maintenance and care. Apart from this, it must have a high absorption capacity. This beading has strong absorption power which can go up to 3 xs.  Odor control qualities can also be easily moderated.  There is also no need for any kind of additional chemicals for its artificial glow and fragrance. When it comes to its ingredients, it is made up of unbleached fibers.
If you feel that the bedding is getting messy, then it is very easy to predict dust in any area due to its white color which is easily visible.
As compared to our first product, it has got fewer ratings on Amazon. But still, with 687 ratings and 4.5 stars, it is many people's choice for their hedgehog.
The paper is compacted. Once you take out a handful and fluff it up, it fills a good area. It is the easiest clean-up you will ever experience with little dust if any and it's super easy to scoop with soiled. It is so absorbent that it means hamsters and hedgehogs can have a nice cozy bed.

4: Eco bedding fiber core dust-free paper bedding for small pets and birds: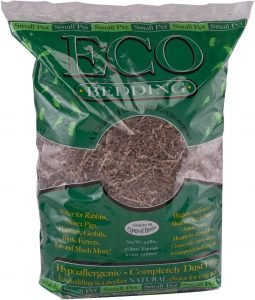 Fiber Core small pet eco bedding is manufactured by recycled paper. Apart from being germ-free, unpolluted, and hypoallergenic, this biodegradable hedgehog bedding has a lot of benefits. Among all hedgehog bedding options, this hedgehog bedding is going to be dust-free. So do not worry about environmental pollution.
A variety of hedgehog bed sheets is available in online stores and also in markets for your small pets and birds. But this bedding is made up of paper so it can be broken down into natural elements which means it is highly compostable. When it comes to its odor control feature then it is very impressive. The absorbing qualities are greatest as well.
Unlike other beddings which sometimes stick to the feet of your hedgehog, this bedding is completely free from this issue. There is no dust which works great for critters and people with sensitivities. It is very easy to clean and this bedding is available at a very suitable price. If you are a hedgehog lover, then you need these small hedgehog sheets for your hedgehog cage.
Then the average lifespan of this paper bedding is about 5 to 6 days which is still better than other beddings. This is the reason it has got 113 ratings and 4.6 stars out of 5 on Amazon.

5: Courtney's handmade pet bedding fleece cage liner:
If we talk about fleece bedding for hedgehogs then this Courtney handmade bedding comes first. This bedding is 100% dust-free, soft, and easy to clean up. Hedgehog fleece bedding is highly recommended because fleece obtained from the sheep is very useful and purposive.
If you want your hedgehog bed highly soft and comfortable then you must buy this hedgehog fleece bedding which is absorbent as well.  Fleece which is durable and compatible material is used in its manufacturing. It provides comfort and eases to your hedgehog.
A wide variety of colors and designs are available for this bedding. It is completely worth the price. This is unbelievably soft, thick, and will be so much better in contributing urine and smell. It can remain in the cage for more than three days and there will be no smell, stains, and wetness. It overlaps the edges a little so it is perfect in size. Due to being thick and soft, it holds up well after washing.
It is adorable and one of the great liners which hold up beautifully over the years. This fleece liner makes it convenient for you to shake the dropping into the trash daily and wash once or twice a week to reuse and keep your pets' home clean and comfortable.
With 244 ratings and 4.8 stars out of 5, this is considered the best bedding as well for your pets.

FAQs:
Many questions arise in the mind of buyers like what bedding is best for hedgehogs, what kind of bedding do hedgehogs need? What kind of bedding is best for hedgehogs? How to make a hedgehog bed? Etc.  For your ease, we have described some of the questions here.
QNO1: What bedding to use for hedgehogs?
Hedgehog bedding sets have wide varieties. You should have complete knowledge and must be aware of the material you are going to use for making bedding. Wood shaving of aspen and pine, recycled material such as newspaper or shredded paper are some of the materials which make fine and great bedding. Some of the shavings such as corn cobs, cedar, or dusty shaving can be irritating, so it's better to avoid using them.
If you are still hesitant, what type of bedding do hedgehogs need? Then you can go through the complete article about the bedding of hedgehogs. It will surely help you.  But we will recommend fleece bedding for hedgehogs. Fleece liners for hedgehogs are great because they are dust-free.
QNO2: Can you use hay for hedgehog bedding?
Using hay in a hedgehog cage is ok. Apart from hay, using some natural nesting material such as straw-made leaves is also the very best option. These materials make the environment completely natural and peaceful. Hedgehog bedding materials should always have pleasing quality.
QNO3: Can you use pine bedding for hedgehogs?
Is pine bedding safe for hedgehogs? This is a question that always emerges in a hedgehog lover's mind.  Bedding for a hedgehog house has always been a very sensitive issue. You should be very vigilant while choosing the hedgehog bedding set.  For some of the small pets, using pine shaving is fine.
Pine bedding hedgehog has some negative impact on pets.  For most pets, using wood or pine bedding is not the best option. Pine and wood bedding are absorbent to some extent so they would not absorb urine or other waste material. Health problems can also be emerged by using pine. The delicate feet of hedgehogs and other small pets can get injured with pine.
QNO4: What bedding do you put in a hedgehog house?
What bedding to put in a hedgehog house? Is still the priority for most hedgehog lovers? Some bedding like cedar is toxic to hedgehogs. Try to avoid using them. Dead dry leaves are always better for hedgehog houses. Hedgehogs usually prefer small leaves that are seraphic. Using a fleece for hedgehog bedding is the best option.
QNO5: Can you use newspapers for hedgehog bedding?
Newspapers can quickly absorb urine and water.  Using recycled paper such as newspaper is the very best option for a hedgehog house.
QNO6: Do hedgehogs eat hay?
Hedgehogs usually do not eat hay. They do not attract towards hay or leaves.
QNO7: How to make a hedgehog bed?
Whether you have hay bedding or leaves, spread it in the entire cage of the hedgehog. Some hedgehogs love to build small nests, and hay bedding or shredded newspaper is perfect for building small nests. Place about 2.5 cm of bedding in the hedgehog house. Make sure that you are placing it in the bottom of the cage completely. Shredded newspaper is the bedding among all which is easy to clean.
What to check out when choosing bedding options for hedgehogs?
As a pet lover, try to discover hedgehog bedding ideas.  You must agree that bedding for a hedgehog's home is one of the most delicate and important points. Various features you should keep in mind while buying bedding for a hedgehog, positive points leave a positive impact on the hedgehog's life and health. Bedding for wild hedgehogs should be the same as normal hedgehogs.
First of all, there is some bedding which we will not recommend at all. These are some toxic bedding that leaves a negative impact on the hedgehog's health. When it comes to toxic agents, they contain phenol, which causes serious health issues. Apart from this, hedgehogs are more likely to get infected because they possess tiny invisible microorganisms such as viruses and fungus. Along with hedgehog bedding, there must be hedgehog baby bedding for their kids. Cage bedding for pets is as necessary as for hedgehogs.
Due to the short legs of hedgehogs, the poor quality bedding gets stuck to the body parts and can be the cause of urinary blockage in some cases.
Free of dust:
This point is most important and is strongly related to health. Some bedding catches the dust very easily. Due to the dust particles, serious issues in the respiratory system as well as in the eyes can occur.
It usually happens that the poor quality bedding releases more dust as compared to the quality one. Pine bedding for hedgehogs is the one that creates dust.
Relief and comfort:
Everyone wants a comfortable and peaceful environment around there. So it should also be your first point to look for. Choose soft bedding and give pleasure to your hedgehog. Diy hedgehog cages are also best when it comes to relief because hedgehogs can free play and move on them. The best type of bedding for hedgehogs also needs proper care.
Some recent research has also shown that bedding directly or indirectly affects the sleep of hedgehogs and other small animals. So if you want your hedgehog to sleep peacefully then bedding should be soft and nice to feel. hedgehog bedding fleece is highly recommended when it comes to comfort and peace.
Odor control feature:
It is one of the most important features which you should look for. Hedgehogs do not stink but if their pee and poop are not cleaned regularly then it can lead to a very bad smelly environment.  If the bedding is chosen right and one of the best qualities then it can eliminate some of the pleasant odors.
Scent:
If we talk about the scent, then some of the hedgehogs possess very sensitive and weak respiratory systems. So it's better not to use any kind of scent that causes problems later.
Color:
Choosing color is a very delicate point. Colors should be chosen wisely. Let's not discuss toxic paints as they should be completely avoided but let's have a glance over the colors.
Dark colors may put us in uncertainty about the poop. When the bedding is soiled then it becomes problematic to examine the bedding because of dark colors.  We always recommend light colors of bedding because you can get information about the health of the hedgehog due to its feces.
Quality:
Quality should be great for the best hedgehog cage bedding.  Choosing quality over price is going to be your fruitful decision. Yes, we agree that changing bedding every day demands a higher cost, that's why most people prefer low-quality bedding.
But in our opinion, using better quality bedding will be very healthy for hedgehogs. Best quality bedding releases less dust as compared to poor quality bedding. Also, you would not need to change the bedding every day if you use the best quality bedding.
Bedding materials:
There are various kinds of bedding material available in the market and many online stores. You just have to make sure that the bedding you are going to buy for your hedgehog is of good quality and has an odor control feature. There is some bedding which you should avoid completely, for example, cedar. They are very dangerous for the health of hedgehogs and can cause very serious health issues.
Let's have a look over different types of bedding which are used for the cage of hedgehogs.
Paper bedding:
One of the cheapest options compared to the other materials is paper bedding. It lasts for a longer period. Anyhow, there are some points to look for when selecting paper bedding.
Some paper bedding contains toxic chemicals. You first have to make sure that all the additives and dyes are removed. Try to use paper that is not recycled.
Inside the package, the paper bedding is compressed. Make sure that it becomes fluffed when it is in use.
Odor control features vary from bedding to bedding. When it comes to being absorbent, paper bedding comes first. Apart from this, I try to choose a fluffy and soft material. Your hedgehog will be more comfortable in soft bedding.
Softwood shavings:
Top bedding shavings include wood shavings. Every material has its advantages and disadvantages. Wood shavings can be easily broken down because they are biodegradable. Apart from this, some bedding of wood shaving is of low price so many people can afford them for their hedgehog. The great choice of pine wood shavings is also worthy to use.
For proper guidance of bedding, its negative points should also be discussed here. Most wood shaving contains toxic chemicals like phenol, acid, and oil, etc. these chemicals are toxic for the hedgehog's life. This is mostly found in the case of cedar. Whatever bedding you are going to buy just make sure that it is free from wood and toxic chemicals. When it comes to pet shavings wood or cedar shavings are not good.
Aspen:
Many people have different views about bedding. Aspen is very fine and has great bedding but it is very difficult to find good quality. But several other reasons compel us to think that aspen is not comfortable bedding for hedgehogs.
It is not as absorbent as others.
Its odor control quality is not so good.
Skin issues can occur.
Fabric bedding:
Fabric bedding for hedgehogs is our top pick when it comes to choosing the best bedding option. Its amazing and incredible advantages have compelled us to write about it.
This fabric can be reused again and again.
It is washable.
Being washable, it has been the cheapest option for since long.
There are no toxic chemicals in it.
There is no dust or other wood particles in it.
Your hedge can be easily handled by this fabric.
Hedgehog fleece liners are best when it comes to the best fabric of bedding.
But every product has some dark sides too.
If the fabric has loose threads, then it can easily get wrapped around the feet of a hedgehog.
Also, use a sensitive detergent to wash the bedding for hedgehog houses. It would not create any kind of health issues in the head egg. For the best experience, you can use other bedding like paper bedding in the other area of the cage and check where your hedgehog is more comfortable. For easy cleaning of your hedgehog cage, you can train your hedgehog about littering. There should be an attached toilet area along with a cage. With very little effort you can make your hedgehog understand littering in the toilet. Many hedgehogs prefer to use blankets so having hedgehog blanket bedding is also necessary with fine fabric.
Pellets:
For absorbing any kind of liquid and water, pallets are very great and fine bedding. This is good for small pets as it has a toilet area where hedgehogs can litter very easily if you train them a little. But for rabbits, we do not recommend this bedding. It can easily stick between the quills and then can harm them.
Rules to follow while placing bedding in hedgehog cage:
There are certain rules to follow while putting the best bedding on a hedgehog. It seems like a very easy task but following certain guidelines is necessary. Placing bedding improperly can lead to various problems.
Put sufficient bedding in the cage:
Use adequate bedding in the cage so that hedgehog can stay comfortable.  Enough area and enough bedding in the cage are important so that the hedgehog can move freely in the cage. The ideal range of thickness is 2 to 3 inches.
Clean occasionally:
Changing the bedding of a hedgehog once a week is very beneficial. If the bedding has good odor control and absorption features, then it looks so good and nice in the cage. But still, you need to change it after a few days for the healthy life of a Hedgehog.