Are you decided to keep a hedgehog as a pet? Hopefully, you do all the research and consider all the factors before reaching that decision. So, you can feed and care for your tiny friend that it demands and deserves. Now, It's time to bring your pet home by finding a good hedgehog for sale.
Though, from which place you can buy a healthy hedgehog? Have you visited your local pet stores first?
Generally, common pet stores have hedgehogs for sale. But these are considered as some of the inferior places to get a hedgehog from.
Hedgehogs are rare pets, and it can be daunting to buy a hedgehog. This guide is essential and helpful for those individuals who are in quest of a hedgehog for sale.  We aim to help you to get a healthy and active exotic pet that may translate to saving the life of one or many hedgehogs through your right buying decision.
Keep in mind that, it is illegal to own a pet hedgehog in some states. Therefore, you must check your state's law before you buy one as a pet. Let's get started without further ado!
Where are hedgehogs legal to keep as pets?
All around the world, hedgehogs are gaining popularity as a pet as they are attractive, cute, and loving critters. Many people consider that they are wild animals and can harm humans. It's a myth and actually, they are quite good, friendly, and harmless animals to keep as a pet. Many states legally allow you to keep pet hedgehogs in the US and around the globe. However, you must check your state's law to avoid any inconvenience later.
Although hedgehogs are not wild, they are categorized as non-traditional pets. So, they are illegal to keep in many countries, cities, and states. Your hedgehog even can be confiscated in areas where they are banned. Because environmentalists thought these exotic pets may cause damage to our ecosystem.
Here is the list of states where hedgehogs are illegal to keep as a domesticated animals:
Georgia
California
Hawaii
New York City & five boroughs
Omaha Nebraska
Pennsylvania
Washington DC
Maine
So, before buying this adorable animal must confirm is it legal in your area or not. You may own a permit to keep pet hedgehogs in restricted regions.
Where Can You Buy or Get Hedgehogs?
Unquestionably, hedgehogs are unique and exotic pets. So, you may face a bit of hassle and have to travel some distance to find a good hedgehog pet for sale. Generally, four common places provide hedgehogs for sale.
These places include hedgehog shelters, online advertisement sources, reputable hedgehog breeders, and pet stores. However, you may get a hedgehog from your friend or family member, vet, and any backyard breeder.
Are these sources seem alike and confusing? Don't worry! They are somewhat apart from each other and some of them should never be considered at any cost to buy a hedgehog.
Here we demonstrate, all possible sources, which source should be your top priority and on which you should not waste your time and efforts at all. Let's figure out the place from where you should own a hedgehog!
Animal Shelters or Adoption Houses
If you want to bring a pet hedgehog, the local hedgehog or animal shelter should be your first consideration. Although there is little chance that you find a hedgehog from a shelter, it is still possible. Some people may give up their pet hedgehogs as it is not their cup of tea, and you have a chance to get your little friend. Besides, many owners donate baby hedgehogs as they can't keep them well.
Firstly, all rescues and adoption houses are private, and their owners and volunteers genuinely care for hedgehogs and house them properly. They spend their time socializing with them and assessing their personality.
Moreover, Animal shelters take them to a veterinarian for regular medical checkups, make sure they are desexed, and vaccinate them for any potential ailment.
Last but not the least, their volunteer and workers are well-informed and answer the questions that you may have. Besides, they can assist you in looking after your pet properly.
Even more, these recuse are extremely concerned with the well-being of their hedgehogs and hand over them to only that owner who can provide the best home and good care to them.
Cost
Animal shelters typically cost you less around $50 to $100. However, the price can be varied (either higher or lower).
Benefit
properly housed and cared for.
Frequently socialization with humans allows them to palsy-walsy with you in a short time.
examined by a vet, so you may be aware of any health problems.
Desexed and vaccinated.
Drawback
Hedgehogs shelter is rare.
Hedgehogs show up at standard animal shelters once in a while.
Reputable Hedgehog Breeders
If you unluckily fail to find a hedgehog at animal shelters, you need to purchase one that is not for adoption but sale. Reputable breeders are a great option for seeking a hedgehog for sale. They professionally breed them with the attention to sell them. As it's their business, they ensure to keep them healthy and appropriately cared for and house them.
Moreover, these breeders have all the required knowledge and experience about breeding. So, they follow best practices to sell you healthy pets. In addition, genetics matters a lot in a hedgehog's life. If your pet hedgie comes from a long line of healthy hedgies, it may live a more healthy and long life with you.
Some good breeder even takes time and analysis to ensure that they are selling their hedgehogs to deserving buyers who can provide them good homes.
Although there are a few reputed breeders, it is the safest choice if you find one having good repute. Always look for a breeder who is approved by USDA. Additionally, make sure to validate important points before buying a hedgehog (explained in the below section).
Keep in mind that, hedgehog from a reputable buyer is a bit costly than other listed options. But you should spend some extra few bucks to get an active and healthy little friend.
Cost
Typically priced between $100 to $200. More rare, unique, and desirable hedgehogs may charge you around $300 and more.
Benefit
You get a genetically healthy hedgehog.
Provide adult hedgehog and baby hedgehog for sale
Properly cared for and housed from birth to sale.
Socialized frequently.
examined by a vet
Drawback
Bring more hedgehogs while many are homeless.
Local Online Classifieds
Many hedgehog owners also post on local classified ads to offer their pet hedgehog for sale. So, classified websites or marketplaces such as Facebook, Craigslist, and others are other good sources for finding hedgehogs in need to rehome. This may happen due to some typical reasons such as:
The owner is not able to properly keep his hedgehog anymore (quite reasonable!).
They give up on their pet because they don't want them any longer (disappointing!).
Whatever the reason is, you get a great chance to get a hedgehog for sale. In addition, they either give you a hedgehog for free or charge a bit of money.
If you want to own a hedgehog in this way, make sure to immediately take hedgie to a vet for a complete checkup and vaccinations. Because they have a chance of having underlying health issues that no one is aware of.
Cost
Typically free, but you may have to pay a bit rehoming fee.
Benefit
Hedgies come from loving homes.
You may get essential supplies along with a hedgehog.
You are giving them a 2nd chance to get a great home
Drawback
Not a common way.
Hedgehogs can have any fatal diseases.
Local Pet Stores
Pet stores are the most common and accessible source to find hedgehogs for sale. However, it is one of the worst places to buy a hedgehog. So, we don't recommend you go there if you can get it from another source.
Usually, local, and bad breeders provide hedgehogs for sale to pet stores. These breeders can't provide optimal conditions to their hedgehogs and their main focus is to make more money by producing more volume.
Not only that, but the pet stores also provide them with bad living conditions. Generally, they are housed in confined cages and male and female hedgehogs are kept together. Besides, they don't get proper food and require socialization.
However, hedgehog breeding or selling is a highly regulated process and pet stores must obtain a license before offering a hedgehog for sale. Due to this porter, some pet stores truly care for their hedgehogs that is an upside.
If you don't want to face many difficulties to find your pet, you can consider this option. Even, if your local pet store does not have a hedgehog for sale at the moment, you can file a request by paying a nominal advance. So, they bring your favorite pet soon.
Word of caution:  Be very cautious while buying a hedgehog from a pet store. Ask about their primary source and check his health. Never purchase a female hedgehog as it may be pregnant and, in this case, you have to handle plenty of hoglets. Remember to check the license of the pet store to avoid an illegal purchase.
Cost
Typically charge you between $100 to $200. Some smaller local pet stores may charge you even lower.
Benefit
Very accessible way.
Some stores offer healthy and properly cared-for hedgehogs.
Drawback
Often take hedgehogs from bad breeders.
Not housed and kept properly.
They can't guide you well.
Friends & Family
Perhaps, someone in your friend and family circle owns a pet hedgehog and is willing to find another great home for it. You can ask in your social circle and approach that person.
Another benefit is you can also get a cage and other hedgehog supplies from them by doing settlements with each other.
If you adopt a hedgehog from this source, make sure to confirm the primary source of their pet. Also, ask the reason due to which they are giving up their cute pet.
Moreover, take that hedgehog immediately to the vet to identify any undiagnosed health risk.
Cost
Typically, they are free, or may you have to pay a little for their supplies.
Benefit
Hedgies come from loving homes.
You may get essential supplies along with a hedgehog.
Drawback
Hedgehog may have undiagnosed and potential health issues.
Local Vets
Perhaps, you can find and get a hedgehog from a veterinarian. Some vets are also concerned with the transfer of pets. Else, they may refer you to some trustable pet stores and reputable breeders.
Moreover, you require the services of a vet after purchasing a hedgie, so it will be helpful for you in the future too.
Cost
Typically, It cost you around $100 to $200. Price can be varied for different hedgehog species.
Benefit
You can get a physically healthy hedgehog from a trustable source.
checked out by a vet
Will be helpful in future health checkups.
Drawback
Backyard Hedgehog Breeder
Don't consider buying a hedgehog from a bad breeder at any cost. Instead, turn away and report him to your local authorities. They are 100% profit-oriented and don't care for their hedgehogs.
Moreover, they don't make any efforts for the well-being and genetic health of their animals. Besides, they are unaware of best breeding practices and don't properly socialize with them.
In case, you buy a hedgehog from a bad breeder, your hedgehog is not vaccinated and comes with many fatal diseases. Besides, these hedgehogs have a short life span because of the worst living conditions.
Luckily, the legal regulations dissuade potential backyard breeders from getting start their businesses. However, you must ensure that you interact with a reputable breeder to seek a hedgehog for sale.
Cost
Normally charge you between $100 and $300. However, the price can vary considerably.
Benefit
Drawback
Genetically unhealthy hedgehogs.
Not housed and cared for properly.
Not socialized.
Treated worst like a non-living and awful thing
How to Identify a Good Hedgehog Breeder?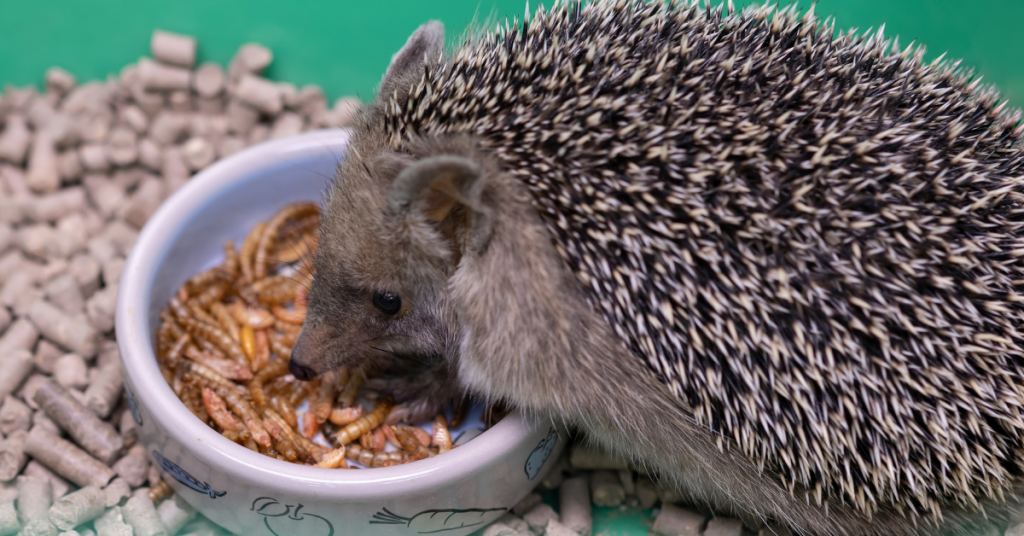 Are you looking for a reputable breeder to buy a genetically healthy pet hedgehog? Well, you must know to discriminate between a good breeder and a backyard breeder. Although both look similar in the first place, a few factors set them apart from each other. These factors include:
If you are in the US, a reputable breeder is approved by USDA while a bad breeder is not.
A reputable breeder let you know and examine the living condition of their hedgehogs, while backyard breeders keep you unaware.
Reputable breeders work more legitimately and professionally operate with referrals, FB pages, and websites. Conversely, backyard breeders provide a hedgehog for sale in local marketplaces at cheap rates.
Good breeders ensure that their hedgehogs go to a good owner, while bad breeders don't care where these exotic animals go.
Reputable breeders happily show you the genetic histories of their hedgehogs, while backyard breeders don't.
Ask Questions to Hedgehog Breeders
Here, we make a list of questions that you must ask your breeder before buying a hedgehog they offer for sale. You can identify you come across a trustworthy hedgehog breeder or a bad one depending on their answers. These potential questions include:
Can you show me your breeding license?
Do I get birth certificates with their parents' details?
Can you allow me to examine your hedgehog's living conditions?
May I get the references of your previous clients?
Do you provide the genetic histories of your hedgehogs?
What food do you feed to your baby hedgehogs (hoglets) and adult hedgehogs?
Do you parodically take them to a vet for a complete medical examination?
May I personally interact with your hedgehog first?
Do you keep your nursing or ill hedgies separate?
May I ask you any other questions about their care?
Make sure to buy a hedgehog from a reputable hedgehog breeder, not from a backyard breeder. We share the list of some reputable breeders located in the US.
Critical Precautions to Take While Buying a Hedgehog
Lastly, if you succeeded to find your desired hedgehog, don't make an emotional and immediate decision. Take a deep breath and prepare yourself for filing lengthy paperwork and inspecting their habitat as well.
Here are some crucial points that you must consider while adopting and buying a hedgehog:
Examine their living conditions such as cages, food bowls, water bottles, and bedding.
Remember to take your pet to a veterinarian for a complete medical checkup.
Its eyes should be round, clean, bright, and fully open. Watery and swollen eyes are an indicator of health issues.
Your Hedgehog's nose should be dry and clean as a runny nose indicate potential health problems.
Make sure your hedgehog is calm and don't become aggressive or nervous during the interaction.
Your hedgehog's ear should be soft and clean. It should have healthy spines and hard and well-kept nails.
A healthy hedgehog has a clean and healthy outer surface (without any gruffness and cracks).
Examine the skin of your pet as lesions, odd spots, and bumps may lead to serious diseases in the future.
Check the gait of your pet hedgehog as irregular or limping walking may lead to WHS (Wobbly Hedgehog Syndrome) terminal infection.
Don't buy a female hedgehog but if you want to. Make sure it is not pregnant and not housed with male hedgehogs.
It is recommended to buy a hedgehog that is a minimum of 6 weeks old. However, you can seek a baby hedgehog for sale, but it can't manage on its own and need more care and attention.
Pro Tip: Make sure to buy an appropriate and clean cage for your pet to provide it with a comfortable habitat having the required temperature. Here is the list of some credible and reputed hedgehog breeders.
Hedgehog for Sale Near Me- List of Hedgehog Breeders
Overall, hedgehogs are adorable pets with great personalities. Although there are many hedgehog species, usually you may find an African pygmy hedgehog for sale. There are only a few hedgehog breeders who can provide you with genetically healthy hedgehogs for sale.
Hedgehog for sale in Oklahoma
Okie pet hedgies
Patty
Cache, OK
okiehedgehogs2012@yahoo.com
(580) 585-7484
Gunner's Quills hedgehogs
Mackensie
Owasso, OK
(918) 697-5263
Hedgehog for sale in NJ
Hog wild hedgies
Gaby & Larla
Cherry Hill, New Jersey
hogwildhedgies@gmail.com
(856) 630-7563
Hedgehog for sale in NY (New York)
Dreadhogs
Jennifer
Catskill, New York
dreadhogs@gmail.com
Hedgehog for sale in Iowa
Iowa family hedgehogs
Derek
Ames, IO
facebook.com/iowafamilyhedgehogs
(515) 337-3563
hedgehog for sale AZ (Arizona)
Sonoran desert hedgehogs
Maricopa, AZ
sonorandeserthedgehogs@gmail.com
(480) 593-7284
Hedgehog for sale in MD
Terrapin hedgies
Stasi
Joppa, Maryland
(410) 322-3650
Hedgehog for sale Houston Texas
Heaven Hedgehog
Kimberly
hedgehogheaventx@gmail.com
Hedgehog for sale Indiana
CC's Exotic pets
Nikki
Noblesville, IN
mybird61@gmail.com
(317) 447-9867
Baby hedgehog for sale in Illinois
Morning Star Hedgehogs
Jonell
Addison, IL
morningstarhedgehogs.com
mshedgehogs@aol.com
(630) 346-5122
Hedgehog for sale in Michigan
Pinkies hedgehogs
Angela
Saline, MI
facebook.com/Pinkies.Hedgehogs.Of.Michigan
(734) 417-6523
Note: Keep in mind that we don't know all breeders mentioned above and can't endorse them in person.
Hedgehog  for Sale- FAQs
Are hedgehogs good pets?
Yes! Hedgehogs are quite entertaining little critters that prove great companion pets. However, they need proper care.
Can you buy a hedgehog at PetSmart?
Unfortunately, No! Large chain stores such as PetSmart don't provide hedgehogs for sale online or in-store as they are classified as "non-traditional" pets and illegal in some US states. However, you can buy all hedgehog supplies and a range of products for hedgehogs from PetSmart.
Can I legally own a hedgehog?
Yes! Except for a few states, you can legally get ownership of hedgehogs in most states around the US. Check your state law for hedgehogs and get a permit to own a hedgehog
How much will a hedgehog cost?
A hedgehog typically costs you around $100-$300. But the cost of hedgehog also involves its essential supplies. The on-time supplies of hedgehog cost you almost $200 and the recurring cost can be anywhere between $175 and $350. So, make sure you have proper financial means before buying a pet hedgehog.
Is it cruel to keep a hedgehog as a pet?
No! There is no harm if you keep a pet hedgehog unless and util you care and love it. Generally, pygmy hedgehogs are kept as pets, but they need more maintenance and care than others.
Does America have hedgehogs?
Although there are 17 species of hedgehog in five genera, America has no native living species. However, In North America, the extinct genus Amphechinus was present once.
How long does a hedgehog live as a pet?
With proper care, pet hedgehogs typically live for five years. Some even live for more than eight years.
Do hedgehogs know their owners?
Be patient! Hedgehogs naturally get nervous by humans at first. However, they start recognizing you and affectionate with you over time.
The Bottom Line
To conclude, finding an exotic pet hedgehog can be a daunting task. So be patient! prepare yourself to wait as it's fine and you will forget all the hassle after getting a cute companion.
Furthermore, we recommend adopting a hedgehog because it will be a great favor for this tiny critter. However, if you are seeking a hedgehog for sale, ensure to get it from a reputable and good source. Besides, prepare properly to bring hedgehog to a good and best possible home.
We hope our guide assists you to get a happy healthy hedgie!